Texas mourns the loss of local musician E.R. Shorts, who died in his sleep last Friday (12/5). Longtime Soulhat fans undoubtedly remember Shorts as the bass thumping Houston native who shocked local Austin scenesters by winning the only SXSW (South By Southwest) "battle of the bands" in 1990, along with the help of Bill Cassis & Kevin McKinney on guitars (and whom were singlehandedly thrust into Austin's spotlight then and there). Shorts went on to become a local favorite who played with scores of musicians, including well, frankly, just about everyone who's anyone in Austin.
After battling personal demons throughout the 90s, Shorts had been staging a local comeback with a new band, as of late. He is survived by his mother, Emma Shorts, a pastor in Richmond; and sons Enrique and Ennis Jr.
Here's what the Austin Chronicle had to say
E.R. Shorts 1963-2003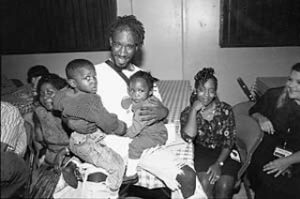 E.R. Shorts, the local blues musician whose promising career was hamstrung by substance abuse and trouble with the law, died in his sleep at his North Austin home last Friday. The cause was unknown, though Shorts, 40, had cleaned up and was on medication for a stroke suffered last year. Shorts moved to Austin in 1989 to play bass for Ian Moore, before becoming a Sixth Street staple with his own high-energy group. "He didn't think he did a good show unless he was completely drenched and did the splits five or six times," says Malcolm Welbourne, who produced Shorts' lone CD, 1994's Texas Sunset, and plans to organize a local tribute. The Richmond, Texas, native had just debuted a new band Nov. 29 at Fitzgerald's in Houston, the site of some of his earliest shows. Copies of Texas Sunset are again available at Waterloo Records, with part of the proceeds going to Shorts' sons Enrique and Ennis Jr.; a funeral is tentatively scheduled for Saturday in Richmond.
Wanna see what the fuss is all about? Check out this great video of E.R. SHORTS at Steamboat, Austin, Tx. August 14, 1992, courtesy of DaveTV.org.