Take a look at how A-town marketed itself to the growing tourism market back in 1987. This video, made for prospective tourists, gives a sizzle reel of footage from the cuisine to the music to the slacker lifestyle of the capital city. Original footage produced and directed by Ricardo Garza.
"When We Were Live" is a feature length documentary about the pioneers of Austin's public access television in the 80's and 90's. Check 'em out on Facebook.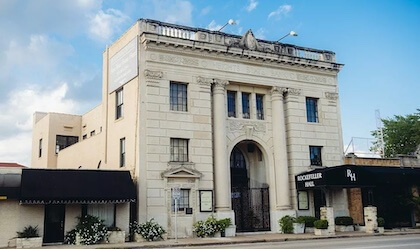 Soon Rockefeller's on Washington Avenue will come humming back to life as a full-time music venue, according to word this week from one of its new bookers.
Opening in 1979, acts like Stevie Ray Vaughan, Roy Orbison, B.B. King, James Brown, Muddy Waters, Ray Charles, Warren Zevon, Dwight Yoakam, Bonnie Raitt, Widespread Panic, and the Fabulous Thunderbirds [and a few early Soulhat shows, as well] all played the venue near the corner of Washington Avenue and Heights Boulevard.
Read more at the Houston Chronicle's website.
since Led Zep is in trouble for ripping off jams, here is a song about ripping off Led Zep jams. From the upcoming album, Vegetable. I hope you like. -Kevin
From The Austin Chronicle:
A warp opened up on the Internet earlier this week, a portal to an exotic yet familiar time and place – Austin, 20 years ago. The video, uploaded by Austin attorney Pete Reid, is a car ride down the streets of Austin in June 1996, narrated by Reid and another then-fellow Scottish UT student referred to as "Young Brian."
Beginning on the Drag and crossing over the First Street Bridge before cutting off, the trip has the duo narrating their time at such legendary haunts as the Hole in the Wall (where he allegedly met Michael Stipe), Liberty Lunch (where he saw Blur, Garbage, and Terence Trent D'Arby), and Tower Records (where a new Metallica record had just arrived). Those longing for the Austin of yore will undoubtedly enjoy this view of a city with a skyline that's more sky than line and with a distinct lack of bumper-to-bumper traffic on a Sunday afternoon.