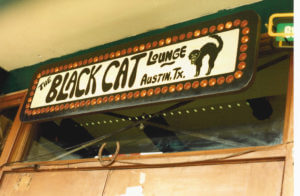 Unbelievable. One of the last great live music bars on Sixth Street is gone. The Black Cat Lounge was the scene of a three-alarm fire early Saturday morning (7/6) — essentially burning to it's shell before being extinguished, and damaging several nearby businesses in the process. Neither Sasha Sessums nor current owner Roberta Pipes have expressed any opinion as to whether or when it might be rebuilt.
Though many consider its heydey the early 90s (when Soulhat, Little Sister and Joe Rockhead dominated its Sixth Street stage – err, and let's not forget Kelly Willis, The Robison Brothers, Chris Duarte, Ian Moore, E.R. Shorts, Ugly Americans, Pushmonkey, Dale Watson, et al.), the Black Cat Lounge continued to be a shining beacon of light (and rock and blues), well into 2002. The fire follows another terrible loss for the club and the Austin music community, the death of original owner, Paul Sessums, in 1998.
To read more about the fire and the Black Cat Lounge, visit the Statesman. and continuing coverage in the Austin Chronicle.