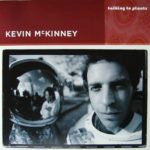 You can set your watch by it. Every Friday at 5:00 o'clock for the past nine years Austin's #1 rock station, KLBJ, has played the same song to kick off the weekend: Soulhat's "Bonecrusher". That's the kind of impact Kevin McKinney's band Soulhat had on Austin.
He followed up the success of his band with his first solo album, last year's McVein In Green, which met with both critical and commercial success. Talking To Plants is his second solo record, and much like his first was recorded almost entirely in his house, on a four-track, with Kevin playing all the instruments. What's amazing is that the record doesn't sound like one of those "recorded on a shoe-string budget in the bedroom" kind of records. Just the opposite really.
"I sometimes hesitate to tell people how I record – they tend to make assumptions about what it's going to sound like. My records are not what people have come to expect from the whole "one man, one four-track" genre." Kevin's journey to becoming one of Austin's most respected musicians has been the quintessential long, strange trip – quite fitting for the lead singer/songwriter of Soulhat: "All I wanted to do was play drums as a child. My parents tricked me into trying guitar instead and it backfired on them. "Walk This Way" pretty much started off my rock jones, and from there it was suburban Dallas heavy metal teenage hell: Iron Maiden, Judas Priest. And then I discovered the Sex Pistols, who came along and cleansed my metal palate, and then REM and some of those other bands took hold…".
From there it was just a short walk from playing with his high school cover band over to the legendary Black Cat Lounge, and the genesis of Soulhat. "We had to play three hours, so we were forced to have a lot of tunes as well as quite a few extended jams. As a result, we evolved into this Allman Brothers meets the Dead kind of band. We toured a lot and ended up signing with Epic Records. We had a great grassroots following and we traded it for major label dreams. The whole experience was very…eye opening". His experiences with Soulhat and with the 600 lb. Gorilla known as the music industry might go a long way in explaining why Kevin records the way he does now.
"Writing and recording are the same things for me and that is why I release these home recordings – I fall in love with the first virgin versions of the song, so rehashing and chasing that magic in an unfamiliar studio can be frustrating…and expensive. I have spent way more money on "produced" music that sounded worse than my original four-track recordings. This way, I decide what goes on the album – I make a CD and listen to it as I am driving around. The songs I like over time end up on the record. I have so many tapes at home of songs that didn't make the record", Kevin laughs. "Maybe we'll put them up on the website someday."
Kevin has built his reputation as much on the back of his live shows as anything else. Live, his shows range from solo acoustic stand-up to full-on power trio – fans of Soulhat are never disappointed, and newcomers are quick to pick up the groove, once they get over their slack-jawed wonder. "I make music not by choice – it chose me. I never intended to do this for a living", Kevin says. We can all be glad he does.